Errol Morris: Interview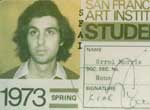 SS: What became of your research from your time in Plainfield?
EM: I wanted to publish the interviews. I actually think that the work that I was doing in my 20s was really smart, and that I'm now just a shadow of my former self. I recorded literally hundreds and hundreds of hours of interviews. In those days, I would transcribe everything. There were no computers. Everything was on cassette tape, but I would laboriously transcribe the material with a typewriter and Wite-Out. I really loved the whole transcription process. You sink into someone else's head in a strange kind of way. It also became a game - why I started doing this, I have no idea - but I started to ask fewer and fewer and fewer questions. I became interested in the stream-of-consciousness interview. It's the exact opposite of adversarial interviews, where you're supposed to pose the extremely difficult and embarrassing question and watch the interview subject squirm. I had this one interview that I was particularly proud of that was on a 120-minute cassette tape - I had piles of these tapes - and my voice wasn't on the tape. It was just the other person speaking. I would play this weird game. I'd wonder, How can I keep them talking without talking myself? That's long before I started making movies.